Ridgewood High School Auditorium – LED Lighting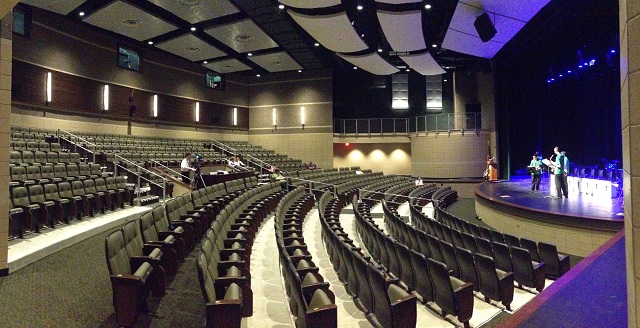 Ridgewood High School Auditorium Renovation – LED Lighting. The renovated Auditorium has LED/SSL in the Lobby, House and Stage areas. The Lobby is illuminated entirely with LED light fixtures. A combination of LED down lights, decorative fixtures and accent fixtures are utilized.
The House area is also 100% LED light fixtures. The House lighting is designed for performances but also for classroom settings when a higher level of illumination is required. The decorative fixtures, aisle safety lighting and catwalk illumination is achieved with LED/SSL.
The theatrical lighting is a combination of color changing LED, metal halide follow spot lights and some fluorescent stage work lights. The ellipsoidal fixtures have a five color mixing process, DMX controls, 16,000 lumen output and have a variable CCT range from 2,500K-10,000K. The par fixtures above the stage are four color LED mixing with DMX controls and the cyclorama borderlights are a 7 color mixing LED fixture with DMX controls. The LED theatrical fixture design has a 64% lower total wattage than a traditional high school auditorium using tungsten halogen lamps. LED lighting reduces wattage, reduces maintenance, reduces HVAC load, and ultimately reduces life cycle cost.